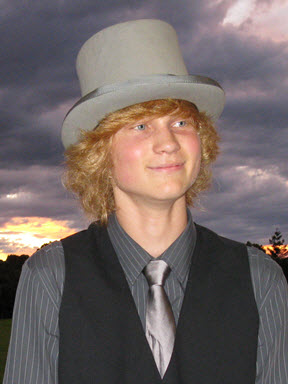 The second person to be memorialised with a special star on the Cooroy Christmas Tree this year is Andrew Spence and there is no more fitting memorial for someone who shone so brightly.
It's been 5 years since Andrew passed away at just 18 years old but he touched so many people in his short life that his memory lives on just as strongly today.  His Facebook page is testament to this as it is still active with friends and family regularly posting messages to his wall wishing they could share their experiences and lives with their happy friend that they miss so much.
Andrew was a gentle and kind boy with a compassion for animals and a great sense of humour.  He loved old British comedy shows like Dad's Army and Monty Python and loved music of The Beatles and The Clash.
Andrew was a talent himself, attending drama school from the age of 7 and continuing his interest in performing and arts throughout his life.  He and his friends were the youngest ever students to be put onto back stage roles at Noosa District State High School and he is fondly remembered there with the Andrew Spence & Jack Bailey Memorial Backstage Award that is presented at the school every year at their Celebration of Excellence Awards.
He attended a year at Griffith University doing film, television and social studies.  His time there also made a big impact and the Mt Gravatt University Recreational Club sponsors the annual Andrew Spence Memorial Talent Award.  There is also the Andrew Spence Hospitality Memorial Award at the Noosa Community Training Centre where Andrew also attended for a short period.  Every graduate of this class is awarded an engraved knife in his memory.
"I love the idea of the sponsor a star and Andrew would have too.  We were very close and he was a wonderful young man that we all still miss very much," said Andrew's mum, Jude Spence.
Click here for more details on how to Sponsor a Star for someone you love